Since the start of the PW-Sat2 satellite's mission on December 3, 2018, we have completed most of the planned tasks. The successful conduct of all the phases of the mission and good radio communication have allowed us to go through the primary and additional experiments quicker than we have initially planned. Currently there is the single most important experiment left to be conducted – the deployment of the deorbit sail. It will complete our satellite's mission.
Three weeks of PW-Sat2 satellite's mission have been very fruitful. The OPER team (a group operating the satellite during its mission) have managed to successfully complete all the tasks planned for this period. The first and most essential was to acquire connection with the satellite a couple hours after the launch. We then checked in detail the condition of the platform (basic systems such as power or communication) and payload instruments. The safe and successful course of this phase of the mission, as well as a positive power budget (meaning the solar panels have produced more energy than we have used) and good radio communication have allowed us to conduct all the experiments of the primary mission plan, along with a large proportion of the extended mission's procedures.
The primary mission consists mainly of the tests related to the Sun Sensor and cameras on board the satellite. Thanks to a relatively large number of communication sessions and the support of radio amateurs from around the world, we managed to accelerate the completion of some of these experiments. The data collected from the Sun Sensor and other subsystems were analysed on an ongoing basis. However, we will have to wait for a detailed summary. The initial plan estimated that the course of the primary mission would have been finished around the 25th day on orbit. Currently, the tasks which are part of the extended mission – that is, radiation measurements using a RadFET sensor and additional photos from one of the cameras – are already being carried out. The photos are being published on a regular basis at radio.pw-sat.pl.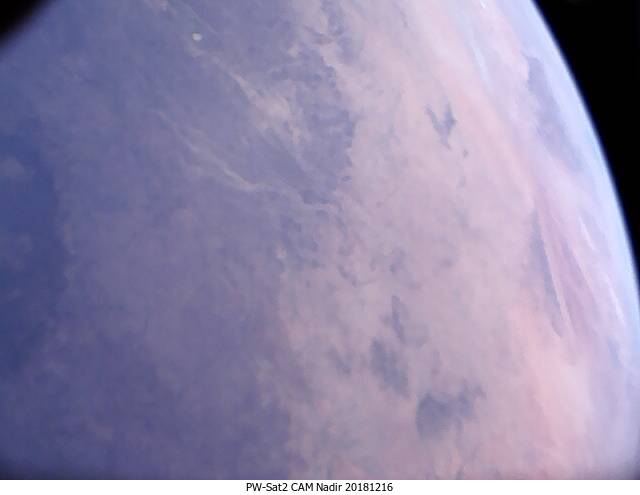 The initial plan assumed the completion of all the tasks before the sail experiment, i.e within the maximum of 40 days. As of now, there is one – the last and most important – task to be executed, the deployment of the deorbit sail.
The decision to open the sail earlier
A satellite remaining in space is subject to many dangers – including the changing temperatures and cosmic radiation which negatively affects electronic systems. Having completed most of the planned tasks, we have decided to bring forward the deployment of the deorbit sail.
The exact date will depend on many factors – including the timeline of passes over Poland, the status of the satellite and current conditions of radio communication with the device. We are considering the last week of 2018 and the first week of 2019. More information soon on our webpage, Facebook and Twitter!